Today [technically, yesterday for you - today for me!] was the feast of the Seven Sorrows of Our Lady. We started the day with Mass. And later in the afternoon they got to color the sheet of Our Lady of Sorrows. I got the download
here
[where everyone else in the blogosphere got theirs!]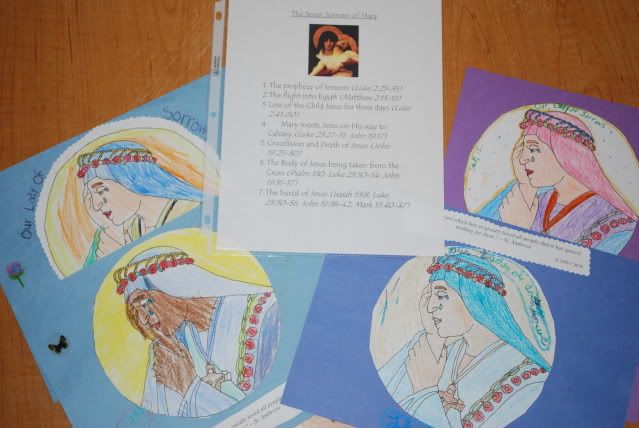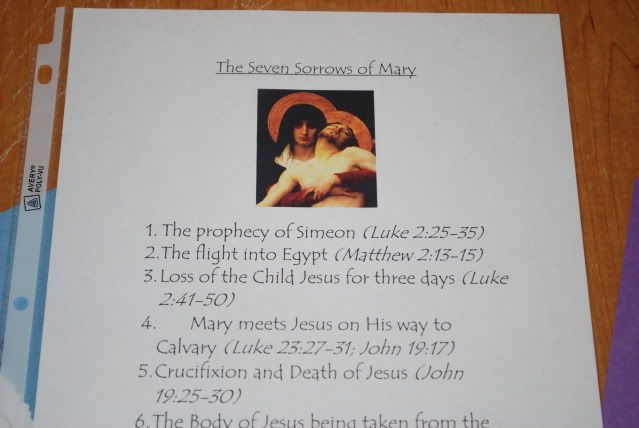 As the kids colored I asked them if they knew Our Lady's sorrows. One by one they knocked them out. And one by one I read the Bible verse as each one was stated. It was actually very lovely. I was glad to be able to do this with my children.
My 3rd daughter, Therese, said during our downpour of rain today [because it did rain today. a lot. unusual for ATL to have a whole day of heavy rain]:
"I know why it's raining today."
Later this evening, at our homeschool parent meeting, we said the rosary for Our Lady of Sorrows - 7 decades of 7 Hail Marys with reflections on the sorrows. I had never prayed this rosary. It was really beautiful.
I'll leave you with this excerpt from Stabat Mater (Our Lady of Sorrows):
Holy Mother, pierce me through,
In my heart each wound renew
Of my Savior crucified.


Let me share with you His pain,
Who for all our sins was slain,
Who for me in torments died.


Let me mingle tears with you,
mourning Him who mourned for me,
All the days that I may live.


By the cross with you to stay,
There with you to weep and pray,
Is all I ask of you to give.